The Maple Minute 📰 It's a fun filled Thursday, Maple families. Please join us for these free events today! 3:15pm-4:30pm @ Maple Maple Museum of Art 🎨 See the artwork created by your children 4:30pm-5:30pm @ Oak Hills HS Gym Boy's Basketball Season Finale Come make some noise and cheer on our Mountain Lions Thank you for consistently supporting Maple. #MapleFamily #BringTheRoar

The district IT team is hosting a Smash Brothers tournament for elementary students grades 1st-6th at Cypress Elementary on May 18th starting at 4PM. Registration will be open now through May 16th. To sign up please go to the link here:
https://forms.gle/8ecpbfyyEnsk3Tt59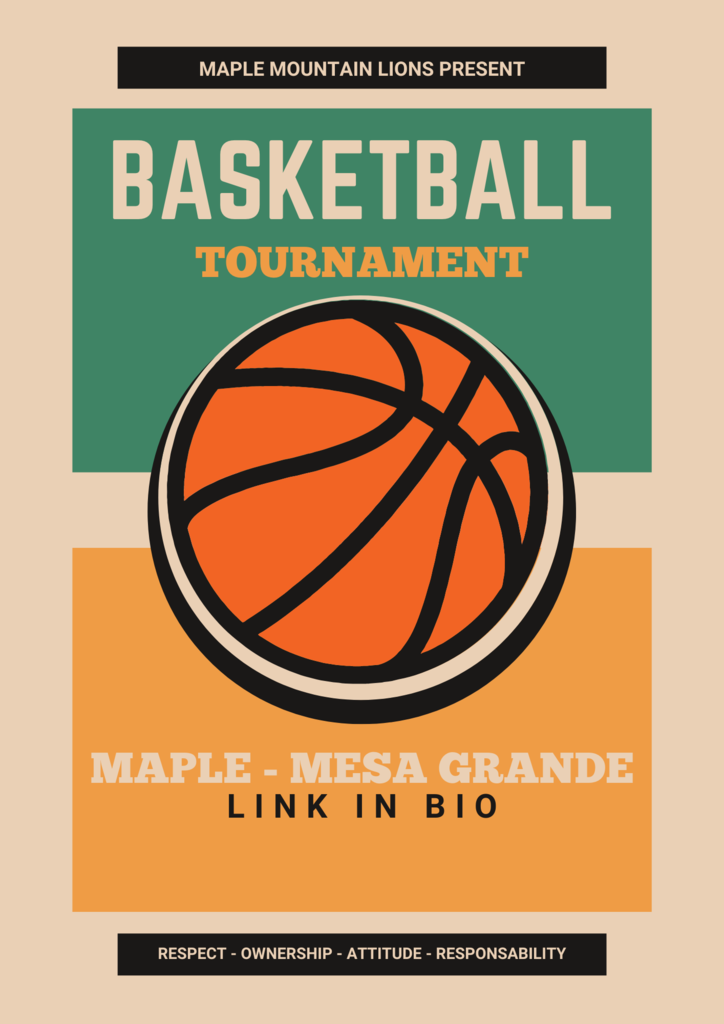 Hello Maple Parents & Guardians, If you have not done so already, please take a brief moment to fill out our 2021-2022 Parent Survey. This helps us gather feedback and plan for the upcoming school year. Thank you for your continuous support. 🐾 Parent Survey Link:
https://forms.gle/oukJAkFydxXDUG3H6

The Maple Minute 📰 May is upon us Maple families. This means we are in the last month of the school year. It has been a fantastic year, filled with so many successes. Please remind your child(ren) to end the year strong and of what you expect from them in terms of academics and behaviors before we close out the year. Teacher/Staff Appreciation: May 2nd-May 6th This is a great chance for our students to show their teachers how much they have appreciated all their hard work this year. Last Day of School: May 26th This is a regular schedule day. Not a minimum day. Parent Survey: Please take a brief moment to provide us feedback from this school year. This helps us reflect and build for the upcoming years.
https://forms.gle/TbEQLVVjL96xnqpf8
BRING THE ROAR 🐾

Good Morning Families! Our phone lines and internet are currently down. We are sorry for the inconvenience. We hope to be up and running soon.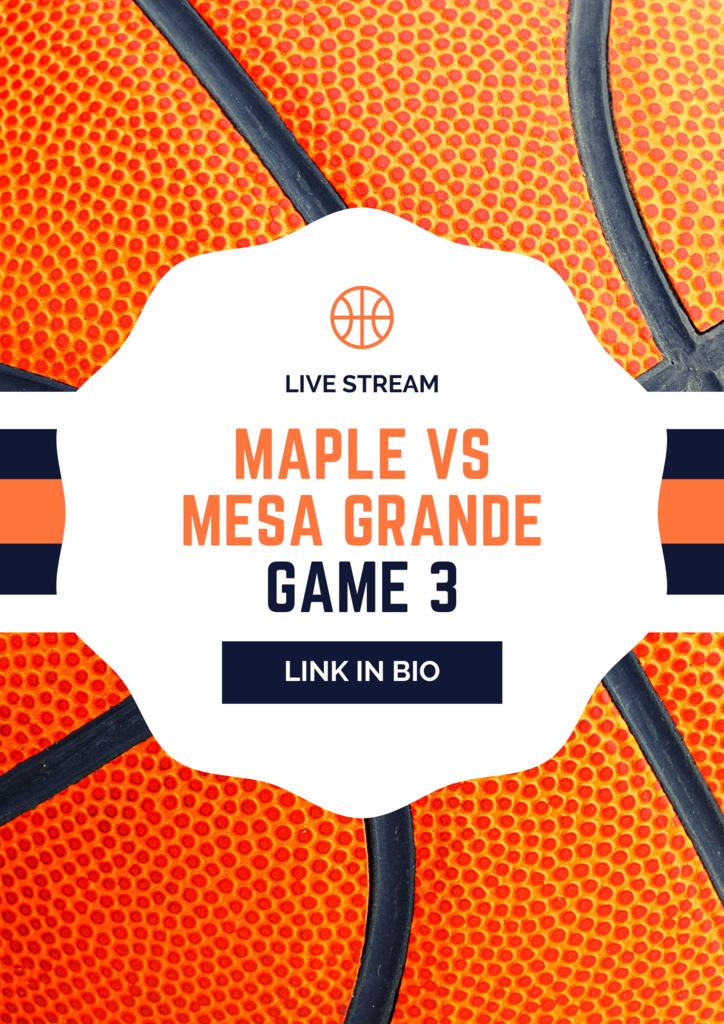 ALOHA! 🌺🌴🌊 This Friday is our Maple Luau Dance. We can't wait to have everyone there for our biggest event of the spring. We have over 10 raffle baskets valued at over $100 each. Buy a raffle ticket for just $1 and enter to win. There will be food for sale, including Pizza Factory pizza. Yum! There will also be fun drinks, a DJ and Photo Booth. Dance tickets are $5 or 5 for $20. Every child must come with an adult. BRING THE ROAR!!!🐾💪🏽 *Raffle Tickets are also being sold in front of the school in the morning and during lunch.

Hello Maple Families 🐾 We hope you have had a restful and memorable Spring Break 2022! As a reminder, we resume school tomorrow, March 28th at 8:20am. YEARBOOKS To celebrate such an incredible year, we wanted to offer our yearbooks at the lowest possible price. Pre-sale cost is only $10! Take advantage of this low price and order yours by April 4th. Bring the Roar! Order Your Yearbook Here!
https://store.plicbooks.com/projects/ab870141-3ffd-4bcf-984e-1c5606f5d4c6

Maple PTC Spring: Virtual Fundraiser March 14-25! Please click on the Link to Support us!
http://bit.ly/37hZObP
Maple PTC Recaudacion de Fondos de Primavera Marzo 14 a 25! Por favor haga click en el enlace para apoyarnos!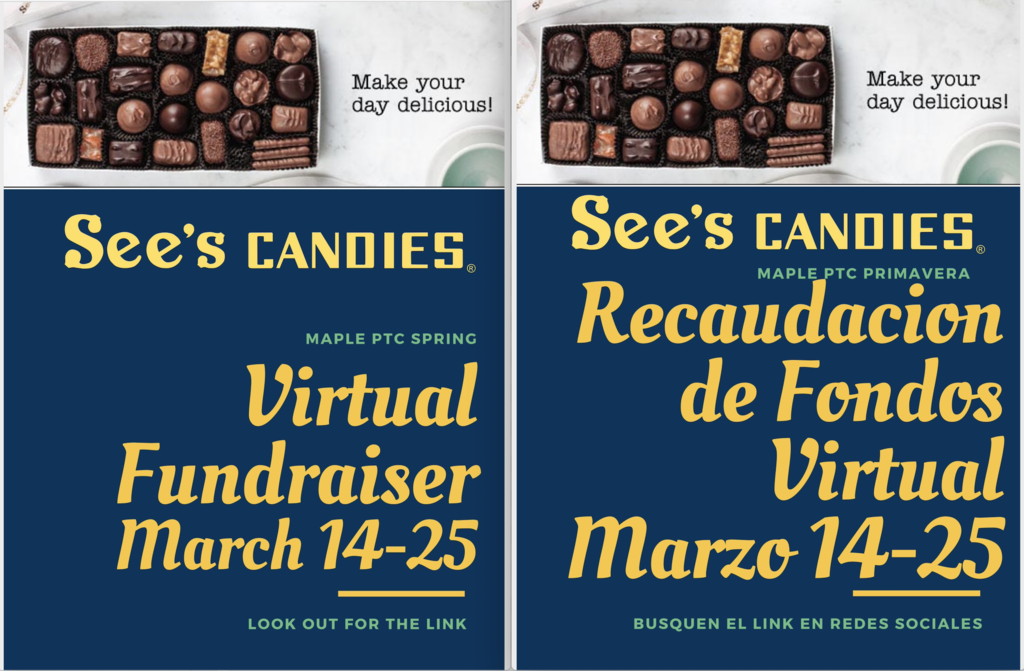 The Maple Minute 📰 This has been such an incredibly fun week as we celebrate reading. Thank you to all of you who have participated in our spirit days. We work hard and have fun here at Maple. Continue to BRING THE ROAR!!! 🐾💪🏽 Dates to Remember: MASKS: Required through March 11th. Recommended starting March 14th. SPRING PICTURES: Wednesday, March 16th SPRING BREAK: March 19-March 27 Please follow us on FaceBook and Instagram for the latest news, events and photos.
https://instagram.com/maplemtnlions?utm_medium=copy_link

🚨 IMPORTANT MESSAGE for Maple Families!!! We request your assistance in assuring that morning arrival and dismissal times are safe for children. In the morning I know you have all seen the cars that do not follow the rules of road. We have cars stopping in the street to allow their children to exit, cars cutting off other drivers, cars making u-turns and driving at high speeds. Please do your part and follow the rules of the road. It is a small handful of drivers that do not follow the rules of the road. Please do not try to save a few minutes of time and cause an accident in the process. Thank you to all those that are doing their part to keep our students, families and staff safe. We rely on you.

The Maple Minute 📰 **A Brief Update On All Things Maple** Hello Maple Parents, What an amazing year it has been thus far and we have no intentions of slowing down! Listed below are some important events to take note of. Feb. 10th- Sports Day Spirit Day 🏈 Feb. 11th - NO SCHOOL Feb. 18th- Family Love Dance: 5:00pm-7:00pm $5 per person or 5 for $20. Children under 2 years old enter free. ❤️ Feb. 21st- NO SCHOOL Mar. 4th- Spring Pictures 📸 Thank you for doing your part as parents to help get our students where they need to be. We are a team in developing students who are life and career ready. We appreciate you getting them to school on time, reinforcing good behavior and encouraging them to reach for the stars. That's what bringing the ROAR is all about. 🐾

Ranchero road widening project to begin soon. Please click the link for more info:
https://5il.co/14x8y


Happy New Year Maple Families, We are roarin' into 2022 with fierce energy and motivation. We pride ourselves in being an elite academic school and preparing our students for the future. Even through the challenges presented to us by COVID 19, we have powered through to provide our Mountain Lions with the best possible educational experience. As a reminder, if your child is experiencing any symptoms or has been exposed to someone who has tested positive for COVID 19 in the household, please keep them home. We need everyone doing their part to keep everyone safe. We will continue to emphasize hand washing, sanitizing, social distancing, masking while indoors and safety procedures for the safety of our staff and students. #BringTheRoar

Hesperia's Jolly Parade December 17th from 4pm-7pm. If you missed Santa at one of his stops, join us at Civic Plaza Park at 7pm for photos and hot chocolate!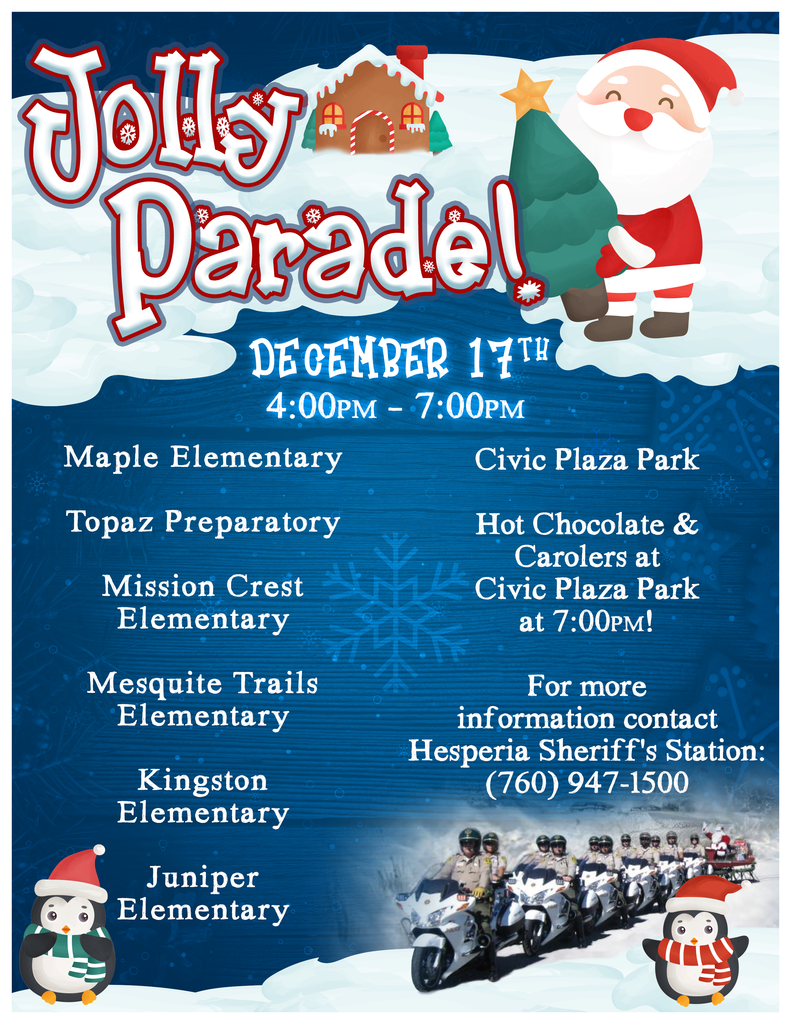 Maple's Halloween Dance!!! 🎃👽 Join us tonight at 5:00pm for our Haunted Halloween Dance. An incredible event with food, raffles, items for sale and a DJ! $5 per person or 5 for $20 *All students must be accompanied by an adult.